Use ACH to pay for registration workaround
SwimOffice Admin - Super User
Although an ACH account cannot directly be used to pay for a registration, there is a workaround. For an Account holder to pay for their online registration using ACH you will need to bring it into the billing system. They will then be invoiced for it on the 1st of next month and their ACH account will be charged for it. For this to work,
Your billing system also needs to be active.
When they register they need to select Check for Payment Method.
To administer:

In the side menu click Team Admin > Registration Admin.
Click Manage to the right of the registration in question.
Find the desired account and click Pay Now.
Select Check for Payment Type.
Enter a bogus Check #.
Click Pay NOW to push this information into the billing system.
Close the Manage Registration window.
In the side menu click Billing Admin > Invoices & Payments.
Search for the account and click view in its Acct Balance column.
Click [Delete] on the bogus registration payment—see Screenshot 1.
Now only the invoice amount should be left—see Screenshot 2. Ensure the total owed now includes the registration dollar amount.
Because the invoice has been pushed into the billing system it will now be payable on the 1st during the normal billing cycle. Their ACH account on file will be charged the outstanding balance from the registration system.
Screenshot #1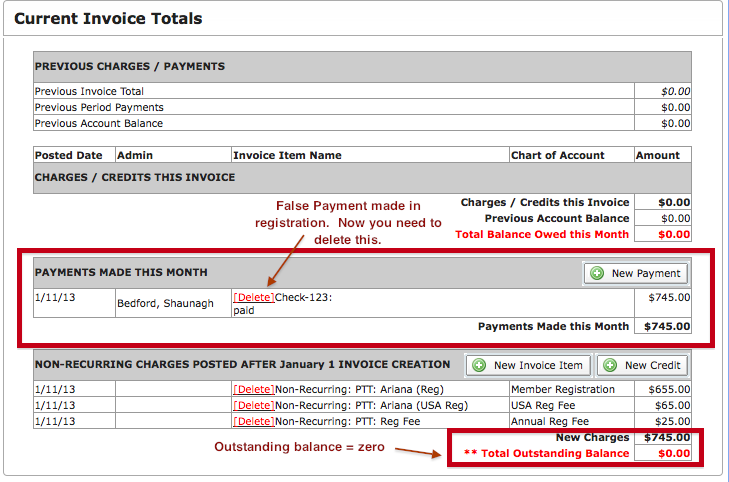 Screenshot #2
__________
See Also
Billing & Registration Tutorial
How do I approve members in Online Registration
How do I add an additional charge or credit to an existing registration?